Information for sponsors
What we need from you
the names and email addresses of the people claiming your complimentary tickets
the name, email address, and phone number of somebody who'll be at the conference, and who can act as our point of contact
a PNG/JPEG logo for the website, width 1068 pixels or larger
a URL that you'd like us to share
a short (one sentence) description of your company for the website, and a link to your website
your Twitter username if you have one
Tickets
All attendees, including those representing sponsors, must have their own tickets.
All sponsorship packages include at least one complimentary ticket, but please ensure your package includes sufficient tickets for all your attendees. You will need to purchase additional tickets if required.
Don't hesitate to contact us if you have any questions about this.
Materials
You may arrange to have materials delivered to the venue in advance. Please address all consignments as follows:
PyCon UK 2022
<your company's name>
Cardiff City Hall
Cathays Park
Cardiff
CF10 3ND
Banners
You need to send or bring any materials, such as banners, that you wish to display or use, and arrange for their collection and return after the event.
Except for Platinum or Headline sponsors, your pop-up banners need to be such that they can be safely displayed behind or at the side of your booth space, as in the photograph below, or against a wall.
Sponsorship stands in the marble hall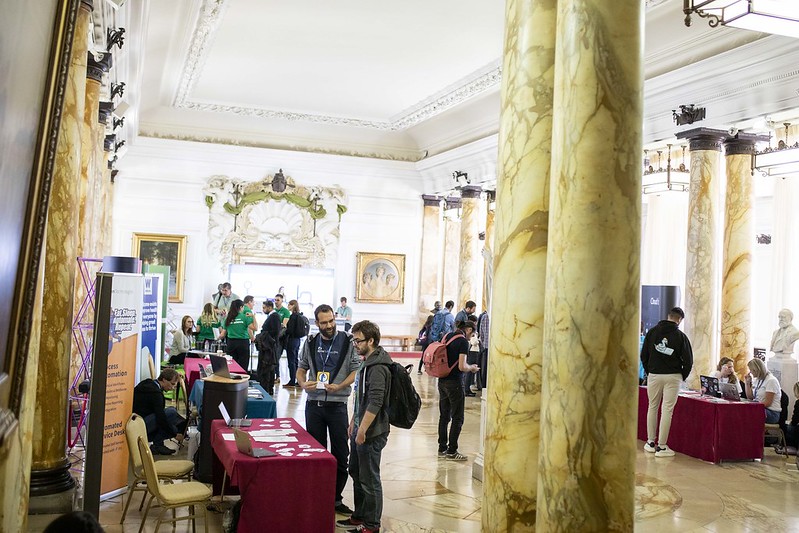 We will provide you with:
a 2×1m table with chairs
access to electrical power
space behind to sit
space behind or to one side for banners.
Platinum sponsors may bring their own, larger, booth equipment.
Social media
We use #PyConUK and @PyConUK on Twitter.